Sri Bhairava Moorthy is from a very traditional Priest family. After being initiated into the scriptural and Siva Agama studies at a very young age, on the professional front, he has been fortunate to learn and practice to perfection the Vedic and Agama rituals from some of the most learned Veda Agama Scholars and Priests in India. He studied Saiva Agama & Vedas from Sri Kanchi Kamakoti Peeta Veda Siva Agama Patasala, Allur, and he has also passed the Priest Examination in Tirumala Tirupati Devasthanam.
He has served as Priest at Sri Subramanya swamy Temple, Adambakkam, Chennai for 1 year.

Sri Ganesh Temple, Eachanari Coimbatore for 3 years.

Madya kailash temple in Chennai for 2 years.

Sri Maha vallabhaganapati Devasthanam in New york for 18 years as a chief priest.

Sri Ram Mandir in Staten Island NY for 4 Years.
Currently he is working as a Priest in Chinmaya Mission Tri State center NJ, also a free lancing priest. conducting services to the entire communities of United States, performing various functions, poojas and vedic rituals and ceremonies like Grahapravesham [House Warming], Sri Sathyanarayana Pooja, Navagraha Shanthi Homam, Vivaham [Wedding], Seemantham [Baby Shower],Shastiabdhapoorthy [60th Birthday celebrations], Shathaabhishekam and Temple Utsavas,Prathishthapanas. He is holding Vedas, Slokas classes for the public. The public are requested to call for priest services.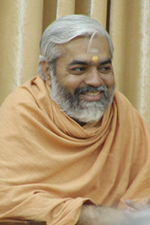 Shri Bhairava Moorthy has been performing services as a Hindu priest in the new york tristate area and North America for over twenty years. He served for several years at the Hindu temple in flushing and is currently the chief priest at Sri Rama Temple in Staten Island NY. He has been one of the Rtvks in the kumbhabhishekam ceremonies of several temples. He has excellent credentials in terms of his training from India and experience in North America. Shri Bhairava Moorthy is higly informed, scholarly and well versed in Aagama and Vedic rituals. The community loves to participate in his services and enjoys his pleasing disposition and breadth of knowledge. He inspires others with his devotion to the Lord and love for the work he does. It is a joy to know him.  

Sri Dhira Chaitanyaji